You've seen gadgets for just about everything. Cute little teabags shaped like whales and full body bear-rug sleeping bags. Well, we thought about all these things that might help you boost your productivity. So, we've made a list of these things! Any of these would make perfect gifts for anyone who needs to be productive or anyone who likes tech gadgets that make life easier.
#1: Fujifilm INSTAX Mini 8 Instant Camera (Blue)
This one is pretty popular. This little guy can combine the benefits of an old school camera with the sleek design of a modern camera. This is the idea camera to carry everywhere as it takes up such little space and you get to have an automatically printed picture! How great is that! Take a look at the features.
60mm focal length, 2 components, 2 elements and 1:12.7 magnification
Brightness adjustment dial

Constant-firing flash

Auto power off

Aperture Range: f/12.7 – f/32
Standing at 4.6 inches and only 4.7 inches in width – this is ideal for anyone with a love of photography they can hang up as soon as they get home or anyone really. Who doesn't like the idea of a mini camera that prints pictures instantly?
#2: TP-Link N300 Wireless PCI-Express Adapter (TL-WN881ND)
300 Mbps PCI Express Adapter
Advanced Security-WPA / WPA2

Supports ad-hoc and infrastructure mode

Support Windows XP 32/64bit, Vista 32/64bit, Windows 7 32/64bit, Windows 8 32/64bit
While it's not a traditional gift option – we're sure it will be a good buy no matter what (even if it's for yourself)
#3 TrackR Bravo 

These are actually pretty great. If you have pets, small kids, or special items you don't want to lose – these are a good thing to have at hand. They are like stickers that use Distance Indicator and Crowd. If you're prone to losing your phone – all you have to do is press the button on the TrackR device and your phone rings! Well, technically any device it's on will ring… Here's more info.
See your item's last connected location on a map
2 Way Separation Alerts
4 ounces
6.1 x 4 x 0.9 inches
ringing at 85 dB
We could all use one of these at some point.
#4 Equil Smartpen 2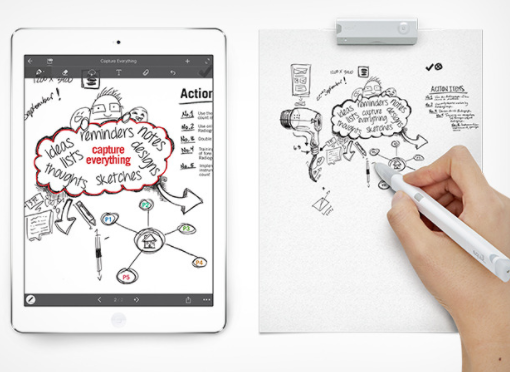 This one is pretty awesome. A lot of people like to jot ideas and notes down on paper as they think of them – but later need to re-type all of this onto a digital platform for one reason or another. Well, that's exactly what this helps you do! With the Equil Smartpen 2, you can transfer all your notes into digital form using Bluetooth Bluetooth or using the pen's built-in memory.
You can get all the info you need on this pen here – https://www.myequil.com/smartpen2/
#5 The Pocket Printer
This one has to be one of the most beneficial of the list. It takes away the issue of "OMG THE PRINTER IS OUT!" How often do you think about how much of a pain it is to get the printer jammed? If you print a lot – you know the struggle. Plus, this is small enough to fit in your pocket, purse, glovebox… A printer at your disposal. Who doesn't want that? You just send documents to it from your smartphone or computer. Here are the specs.
10.2 cm in diameter
7.5 cm in height
rechargeable battery
Prints on any size of paper
Well, we've looked over 5 really awesome and helpful gadgets that just might help you be more productive – or entertained at least. Which one do you like the most? Let us know in the comments! You can also follow us on Facebook for more helpful tips, blogs, and more.
http://kcpctech.com/wp-content/uploads/2017/05/Screen-Shot-2017-05-19-at-9.36.06-PM.png
441
933
jbacchus
http://kcpctech.com/wp-content/uploads/2016/04/logoSM2.png
jbacchus
2017-05-20 02:42:38
2017-05-20 02:42:38
Tech Products To Help Boost Productivity